Robotic Surgery
In the world of healthcare, the Da Vinci System has revolutionized the way surgeries are performed. It enables surgeons to conduct procedures through just a few small incisions, a minimally invasive approach that offers significant benefits to patients. The system incorporates a magnified 3D high-definition vision system, providing our surgeons with an unprecedented view of the surgical field. Coupled with tiny wristed instruments that can bend and rotate far more than the human wrist, Da Vinci equips our surgeons with enhanced vision, precision, dexterity, and control. One of the remarkable features of the Da Vinci System is that it empowers our surgeons to be in complete command. The system translates their hand movements into smaller, more precise movements of the tiny instruments inside your body, ensuring that your surgeon maintains full control throughout the procedure. This level of precision is especially crucial for complex surgeries, where even the smallest of movements can have a significant impact on outcomes.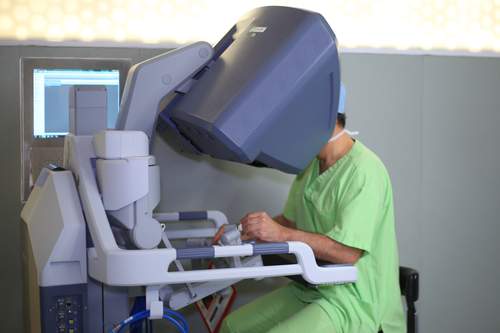 Mid-Atlantic Surgical Group is at the forefront of healthcare innovation, offering our patients access to the latest advancements in surgical technology. At Mid-Atlantic Surgical Group, we view Robotic Surgery not just as a technological advancement but as a means to elevate patient care to new heights. Our surgeons are dedicated to providing personalized and precise healthcare solutions, ensuring that every patient receives the highest level of care. If you or a loved one is in need of surgical intervention, trust our team to leverage the incredible capabilities of robotic surgery to improve your health and enhance your quality of life.
Located in Salisbury, Maryland, our practice is strategically situated to serve the Eastern Shore community with the highest standard of care, including cutting-edge robotic surgery, which is not just a procedure; it's a promise of excellence, precision, and a brighter, healthier future.
Learn more about the potential benefits of minimally invasive Da Vinci Surgery in the following areas:
For more information or to schedule a consultation,
please call us at:

(410) 543-9332